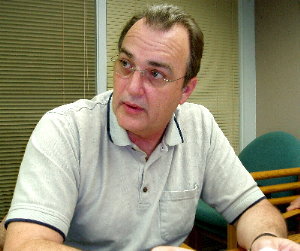 Boyd Garrett - N5CTI
Chairman, LARG's 2005 ARRL FD Cmte



Returning to Banshee Reeks for our 2005 ARRL Field Day operation was a real treat. There were many interesting and very important duties. We have all grown from this operation.
This exercise has made us better. We know each other better; we know what to do; we know what each can do; we know we can do it and those who may need us should know they can "Count On Us !!!" We are better prepared to aid our Loudoun County communities with emergency communications if we are called upon.

We especially wish to thank the Preserve's Ranger for hosting us and making our operation very successful.

Thirty-plus members of the Loudoun Amateur Radio Group established six emergency portable radio stations that operated for 24-hours on voice, Morse code and digital modes to train and test their capabilities to aid if a disaster strikes. The Group made some 3000 radio contacts throughout North America.

Our story of this operation is contained in the several Internet links listed in the Site Guide below.
This report is written, edited and posted to the Loudoun Amateur Radio Group's K4LRG.ORG Internet Site by Norm Styer - AI2C of Clarkes Gap, Virginia. For photographic credit, place your cursor over a photograph. Non-profit use of this material is granted if the Loudoun Amateur Radio Group of Northern Virginia, it's internet writers, photographers and publishers are credited. See you all next year es best regards, Norm Styer - AI2C.