The Friday Night Setup
On Friday evening, we assembled at the lovely Fox Glen Farm of Bob Oliphant, KF4VBM, in the rolling hay fields and woodland northwest of Waterford, Virginia.

We All Pitched In To Erect Our Antenna Farm !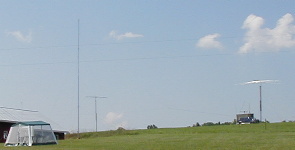 By Late Friday Night We Had A Great Setup.
Tom Dawson, WB3AKD, and Dave Putman, KG4KZZ, arrive With Tom's VHF-UHF-SATCOM Station
John Unger, W4AU our FD Chairman and Station 3 Captain guides the installation of the 40-Meter Delta Loop.
Gary Quinn, NC4S, takes a break from setting up to copy the W1AW FD Bulletin on 80 Meter CW.