The annual Leesburg Executive Airport Air Show was held on Saturday, October 23, 2010. It featured experimental aircraft and other static aircraft on display in addition to local and national aerial artists. The evening ended with the Annual 1940's Hangar Dance sponsored by the Commemorative Air Force (CAF). For the first time, the Loudoun Amateur Radio Group provided on-site supplemental back up communications support for the show with emphasis on parking and crowd control, and of course, back up support communications for air field and flight safety. As many as 15,000 visitors were expected. Amateur radio communications among the several sites was provided by 440-MHz handheld radios. Thirteen members supported this operation.

This report along with his initial operations plan is provided by Jay Ives - KI4TXP of Lucketts, Virginia. Photographs are by Luther Guise - K5NOB of Leesburg, Virginia.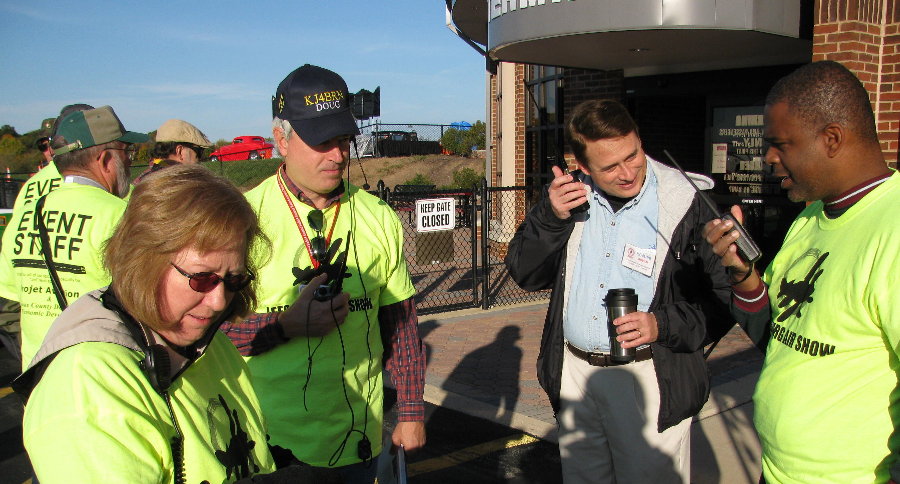 Volunteers of the Loudoun Amateur Radio Group Check Their Radios
Buddy - K4CJB, Sally - K4NOB, Doug - KJ4BRN, Bryan - KG4UPR and Earl - KF4UUX

We started set up for the Air Show on Saturday morning at 0615 hours and were set to go at 0700 hours. All members involved were present by 0830 hours. I then gave them a brief explanation of what was expected of us. For the first year of doing this all went very well. There were no problems that involved LARG, actually there were no problem at all.

The Air Show started at 1300 and was over at 1430. By 1530 most guest were gone and we were able to secure.

I asked all that helped to send me an email with their thoughts. I did receive several and their suggestions and comments will be incorporated into our next operation.

There was nothing but Thanks from the air show committee. It was a job well done. Several mentioned how much easier it was with our help. I would like to thank the following for their help. With out you it could not have been done. Many many thanks.


| | | | | |
| --- | --- | --- | --- | --- |
| Dodson | AJ4EY | | Jay | KI4TXP |
| Buddy | K4CJB | | Earl | KF4UUX |
| Sally | K4NOB | | Doug | KJ4BRN |
| Luther | K5NOB | | Marcy | KJ4GYH |
| Dennis | KF4TJI | | Ken | KJ4GYL |
| Bryan | KG4UPR | | Dave | WA4TXE |
| Kurt | KI4FWB | | | |
Thanks Again, Jay - KI4TXP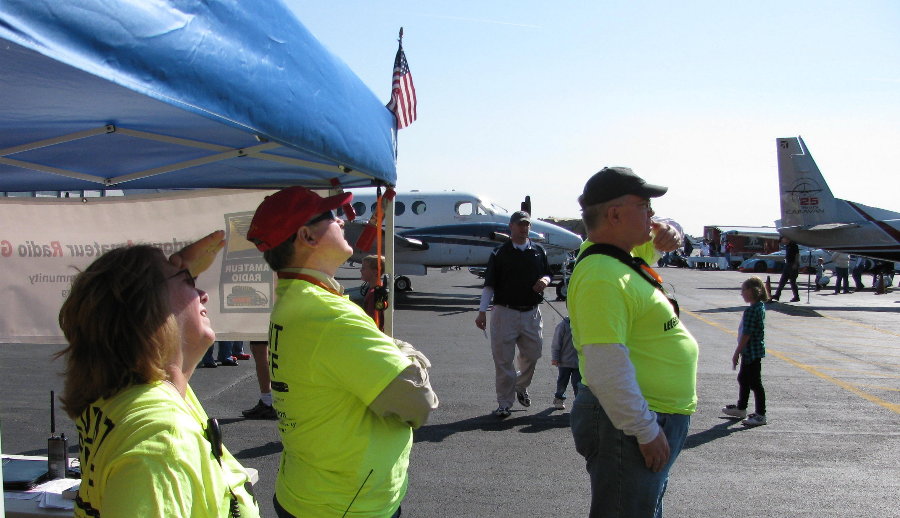 Original Operations Plan & Request For Support
(Loudoun ARG, Purcellville, VA., September 22, 2010) Loudoun Amateur Radio Group has been asked to provide communications for the Leesburg Executive Airport 2010 Air Show. Also visit the JYO.AERO site about the air show. The show will be on October 23, 2010. Below you will find a tentative operation plan. The Committee is planning for approximately 15,000 people for the event.The organizers are planning set up to start at 0700 with the gates to open at 1000. The actual Air Show will start at 1300 hours and continue for one hour and 20 minutes. Here is a tentative operation plan. More to follow.
LOUDOUN AMATEUR RADIO GROUP
Public Service Communications Support
September 7, 2010
TENTATIVE OPERATION PLAN - Leesburg Executive Airport 2010 Air Show

SATURDAY, OCTOBER 23, 2010
0700 HOURS SET UP, READY TO GO
1700 HOURS SECURE UNLESS TOLD DIFFERENTLY

Frequency 1 : Air Boss (1)
Ramp Control (crowd control) (2)
EMS Units (2)
COMMAND POST (1)

All communications will be direct, no Net Control

Frequency 2: Net Control (2) to monitor each frequency
Parking lots (1 each lot). High School lot only if opened.
Shadows (6?)
COMMAND POST (1)

Net Control will be used to maintain order; direct communication will be used as needed.
COMMAND POST will have 1 Amateur Radio Operator to monitor each Frequency in use.
Net Control will monitor the Amateur Radio Frequency being used.
For the Air Show part of the day, I need 7 operators who will work with the Air Boss. The Air Boss is the BOSS; he can stop the show at a drop of a pin.
Also, we will be providing back up communications for the Command Center, Fire, EMS, spectator line control, and our Net Control. This group will have to go to a briefing prior to the start of the air show and when the show is over this part of our job will be finished.

In addition, there will be 4 and possibly 5 parking areas we will need operators at. There will be a need for, at this point, 4 shadows and one at the Control Center.

As you can see, this will be a very complex but interesting and fun event to practice our skills using HT's with loads of people around. I'm guessing that we will need 20 operators for the day. Send me an email if you can help. This will be a good opportunity for new Amateur Radio Operators to get there feet wet. Don't be intimidated by what you read here please sign up. It will be a fun day!!

73, KI4TXP Jay Ives - eMail: [email protected]
NNNN