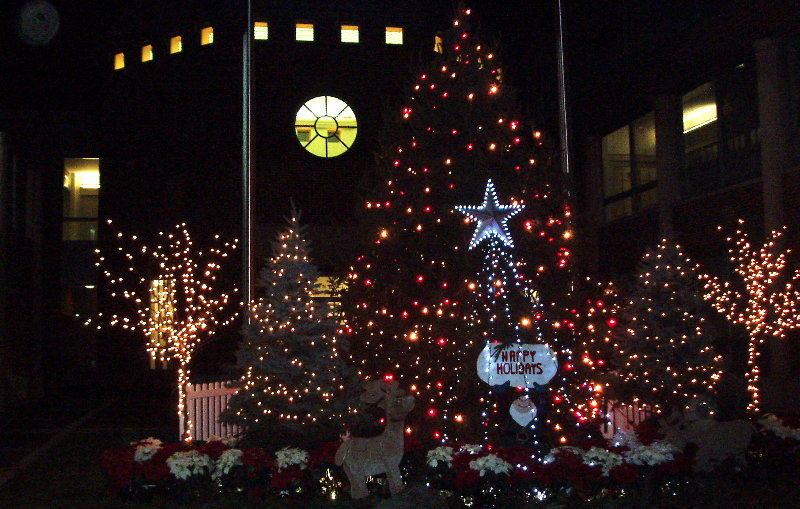 First Night Leesburg is conducted by Bluemont, the Cultural Spirit of Our Communities. First Night ® is a registered trademark of First Night Inc., P.O. Box 203, Leesburg, Virginia 20178. For more information - click here.

The LARG and Loudoun Amateur Radio Emergency Service volunteer their communications services to the Committee.
Since December 1994, the Loudoun Amateur Radio Emergency Service and the Loudoun Amateur Radio Group have supported the Bluemont Concerts Series' First Night Leesburg. It has always been a Happy New Year event. Since December 2000, our support has been captured here; just click on a link below. Our other efforts are recorded in our monthly newsletters thanks to John Unger - W4AU and they are summarized below.

December 31, 1997
LARG had an excellent turnout for Leesburg's First Night celebration again this year. Our club provided communications for the event's organizers and managers, and we were able to help with some crucial problems during the evening as they arose. Net control duties at K4LRG located in the Leesburg Town Hall were ably handled by Ray, K4AJA. The rest of the crew included the organizer, Paul, N4PD, Tom, KF4FXT, Dale, KD4LSL, Norm, AI2C, John, W4AU, Tom WB9RXJ, Nancy, KE4RTP, Mary, KF4UUY, and Bob, KF4VBM. All of us enjoyed being able to see the various shows that are part of the First Night celebrations, the good food provided to all the volunteers, and the great ham fellowship. Join us next year!

December 31, 1998
LARG, through Paul's, N4PD, efforts, again provided communications and support for the Leesburg New Year's First night celebration. Tom, WB3AKD, Tom was net control this year; he used the tower on his "communication vehicle" (aka pick-em-up truck) with a j-pole on top as the base station antenna and his mobile rig for the high power base station operated from inside the building. Others LARG members participating were Paul, N4PD; Nancy, KE4RTP; Pam, N4OPN; Jacob, KF4VLQ; Norm, AI2C; Tom, KF4FXT; Angie, KG4AVR; Mary, KF4UUY; Bob, KF4VBM; Dale, KD4LSL; and Tom, WB9RXJ. We think that this is the largest turnout that we've had for the four years that we have been participating in First Night. Good job, everyone!

December 31, 1999
Under the able and then disabled leadership of Paul, N4PD, LARG again turned out in force to provide communications for Leesburg First Night celebrations. Our Communication's Center was manned by Tom, WB3AKD, and Paulson. Standing out in the cold were Nancy, KE4RTP; Mary, KF4UUY; Bob, KF4VBM; Tom, NA4MA; Angie, KG4AVR; Mark, N3GMW; Norm, AI2C; John, W4AU; Dennis, KF4TJI; and Carol, KF4TJJ. Many thanks for a job well done!

December 31, 1994
A special thanks to Paul N4PD, Nancy KE4RTP, Justin KE4PCX, Dave KD4TWR, Tony KD4EEQ, Chuck W4LFO, Gary KD4SRX, and Dale KD4LSL for their help with the Leesburg First Night Celebration. Paul and Nancy helped us start off the new year by organizing the communications for the event which went very well. Thanks again to all who braved the Cold, Damp air to help with the Event.

December 31, 1995
LARG participated in the annual Leesburg First Night New Year's Eve celebration again this year. Paul, N4PD, arranged the communications for the First Night organizers and acted as net control. LARG members: Nancy, KE4RTP, Dale, KD4LSL; Justin, KE4PCX; Tom, WB9RXJ; and John W3GOI, along with Gary, KD4SRX, from the Herndon Club helped out providing communications between the First Night headquarters and the 19 event sites around Leesburg. Fortunately, the rain was light and all the volunteers got a chance not only to help out but to partake of the festivities. Thanks to N4PD for organizing this event for the club and for the good turnout.

December 31, 1996
Paul, N4PD, again organized communications for the Leesburg First Night New Years Eve celebrations. This event is a lot of fun and all of us who have participated in the past have had a good time. There is food and warm drinks for the "workers" and you will also get passes that will enable you to see all of the special activities set up around the old section of Leesburg. Thanks, Paul.