W3ZI Multi-Multi Operation in the 2006 Pennsylvania QSO Party
Another eXtreme Adventure By The Guys and Gals Of The Loudoun Amateur Radio Group of Northern Virginia
Scoring Report By John Unger - W4AU, written and reported by Norm Styer - AI2C with photographs by Larry Hughes - K3HE, Bill Buchholz - K8SYH, Denny Boehler - KF4TJI, Gary Quinn - NC4S, and Norm Styer - AI2C
Place your cursor on or over a photograph to see its photograph credits. With a 'Welcoming Greeting': "Let's Get This Party Going" by Jessie Styer of Round Hill, Virginia.
(Loudoun ARG, Purcellville, Virginia - December 11, 2006.) This year, with the encouragement and leadership of Bill Buchholz - K8SYH, a group of eleven members of the Loudoun Amateur Radio Group of Northern Virginia organized and executed a Field Day style operation in the October 2006 Pennsylvania QSO Party. For many years, Bill - K8SYH had operated as a portable station in the PAQP from a campground in the rare Somerset County; John Unger - W4AU had operated out-of-state from Virginia for many years; and Norm Styer - AI2C, operated /3 from his family farm in Berks County in 2004 part time.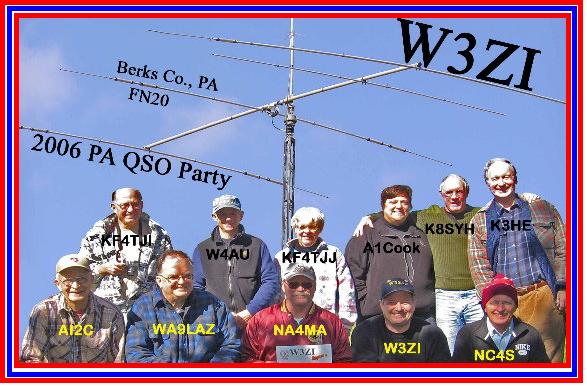 Originally, we thought it would be fun to mount a mini-M/M or M/2 operation from that same location in Somerset, but as interest was generated and it looked like we may have as many as a dozen operators, Norm - AI2C, generously offered to let us use his family farm in Berks for our 2006 PAQP operation. However, we were not going to have the luxury of just showing up and operating at a "real" M/M station. The only permanent antennas at Norm's farm are 40 and 80 meter dipoles.

The planning evolved over a couple of months, and we finally zeroed in on a M/M station with 5 HF rigs. Mark Johnson - W3ZI decided to accompany us and let us use his fine business callsign; that made things easier.

Our team shown to the left were (front left - right) Norm Styer - AI2C, Chester Kmak - WA9LAZ, Tom Garasic - NA4MA, Mark Johnson - W3ZI, Gary Quinn - NC4S, (rear Left - right) Denny Boehler - KF4TJI, John Unger - W4AU, Carol Boehler - KF4TJJ, BA Buchholz - QM and Chief Cook, Bill Buchholz - K8SYH, and Larry Hughes - K3HE.

The stealth LARG caravan sneaked into Pennsylvania on the Friday morning before the QP and began setting up. Norm had been there a few days before us and had erected a second dipole for 75 and a big, low 160 meter dipole. He had also put up his 15 meter 3-element beam on a 35-foot ladder. We arrived with our secret weapon, the club's trailer-mounted 60' crank-up tower which we used to put up a 4-element beam for 20, along with a 2M vertical. We also put up a 40 meter vertical loop on a 40-foot mast, which would be used for the CW station on that band.
Mark Johnson - W3ZI

Our final configuration looked like this:

Station 1 by John Unger - W4AU:
40 CW - TenTec Omni VI+, 40M vertical loop.

Station 2 by Norm Styer - AI2C:
40 SSB - Kenwood 440, 40M dipole.

Station 3 by Gary Quinn - NC4S:
20 CW & SSB - TenTec Omni VI+, Alpha 78, 4-element yagi.

Station 4 by Mark Johnson - W3ZI:
80 CW, 160 CW & SSB, and 15 CW & SSB
- Kenwood 850, dipoles, and 3-element beam for 15M.

Station 5 by Mark Johnson - W3ZI:
75 SSB, 2FM - Kenwood 2000, dipole, Diamond vertical.


The only problem with our setup was with occasional interference between the two 40 meter stations even though the two antennas were separated by about 300 feet.

Without an exception all of us had a fantastic time and our results far exceeded our expectations. We had a clean sweep of the PA counties, worked all the ARRL sections except AK, PR, and VI, and worked 8 of the 13 Canadian provinces.

The photograph above will serve as our QSL card. Denny Boehler - KF4TJI is handling the printing and Mark Johnson - W3ZI will process the cards ( W3ZI at QRZ.COM ) . Our cards should be ready in early 2007; we'll respond to everyone.

Thanks to everyone for all the QSOs, and our hats are off the those intrepid mobile operators who seemed to be occupying a new county every time we turned around. For me personally it was great to return to the Keystone State. I was first licensed in 1956 as WN3GOI up in the "Back Mountain" region of Luzerne County, and this was the first time I had operated from PA since about 1961! I can't say what our plans are for next year, but keep an eye out... Best Regards, John - W4AU


Our Great Cooks !!!

PA QSO PARTY CANTEEN
Saturday Lunch
Sandwiches:  Ham, Turkey , Cheese
Potato Salad
Chips: Tortilla & Potato
Pickles: Dill, Sweet, Jalapeno
Cookies, brownies

Saturday Dinner
Tuna Casserole
Mexi Rice Casserole
Roasted Vegetables
Cake

Sunday Breakfast
Sausage Gravy & Biscuits
Eggs & Bacon
Hash Browns

Sunday Lunch
Ham Sandwiches
Chips
Pasta Salad
Pickles
Cookies, Brownies

Sunday Dinner
Chili
Cornbread
Chips & Salsa
Cakes
Fruit

Miscellaneous:
Instant Oatmeal
Dry cereal
Breads for toast
Microwave popcorn

Stocking The Kitchen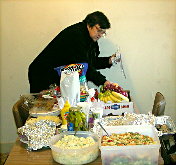 Many of us have prior military and other outdoor experience and we all knew "an army moves on its belly." This operation was no exception. BA Buchholz planned and provided great meals throughout the party. This is our 'Greatest Trade Secret Weapon!!!
BA Buchholz - A1 Cook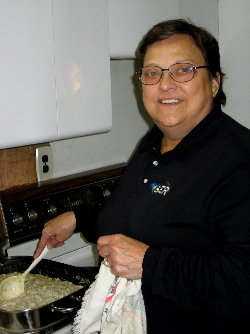 BA started planning the menu well before we all knew who all would be able to make the trip. She has a great reputation for camp style chow and lots of experience with Boy Scout Troops and Explorer Post trips. Plus, she handled the chores when Bill and her went to Summerset County for past PQP operations. It wasn't hard to decided to go once we knew BA was in charged of the kitchen. BA said she sized everything for a small hungry Troop.



Tom Garasic - NA4MA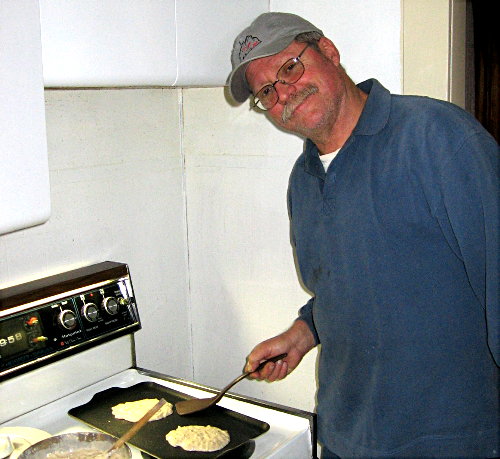 Bill had brought most of the food with him on Friday but when BA arrived on Saturday there was another truck load to store around the house. We had 40-quart kettles of all kinds of good smelling and tasting thinks. And, we could have used a second refrigerator; creatively, we kept the drinks outside up against a stone wall. It wasn't hard to push away from the operating position for the call to dinner; luckily, we had enough ready operators so no frequency went unattended.

On Saturday morning before BA arrived, Tom Garasic - NA4MA served up a big batch of Angi Garasic - KE4AVR's special pancakes. This was a special treat.

Chester Kmak - WA9LAZ and Tom Garasic - NA4MA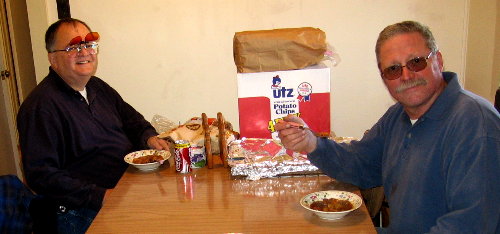 Here, before the action starts, Chester and Tom sample some of BA's best. We were lucky that we didn't all have to take a nap after all this good food.

BA, thanks for everything. We couldn't have done this without you.




Our Operating Location and Antennas !!!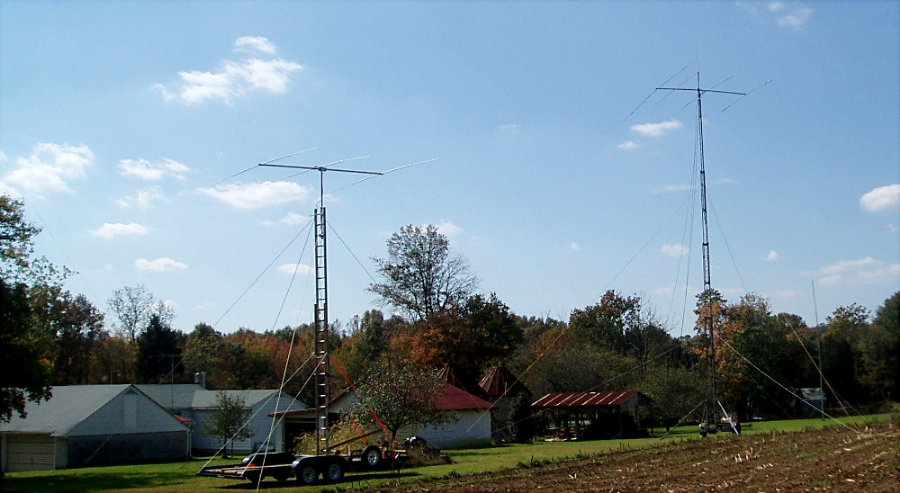 Our operating location was on the family farm of Norm Styer - AI2C in southern Berks County; it's in a quiet farming and forest area with low noise levels and good low takeoff angles in every direction. The earliest radio activity from this QTH began in 1953 when Norm set up a Shortwave Listening Station with an old Zenith table top medium and shortwave radio to a 75-foot long wire. He first operated his Novice Station - KN3ZGS from here in 1963 while he was home from Penn State. In recent years, Norm established a small 80 and 40-meter capability and operated in several Pennsylvania and Virginia QSO Parties. The two acres not in active farming around the farm house proved to be just enough to erect our antenna farm. By the time we were done on Friday afternoon, we had added three more antenna systems to the six that Norm had hung or trailered in earlier in the week.

We had antennas for 160M CW/SSB, 80M CW, 75M SSB, 40M CW, 40M SSB, 20M CW/SSB, 15M CW/SSB, and two antenna systems for both 2M and 440 FM. The low band stuff were all dipoles except for a loop for 40M CW and all were especially tuned for the party's operating frequencies. The 160M dipole was a real cloud warmer being up only 60-feet but it was loud on Saturday night.

High Noon On Friday - Up They Go !!!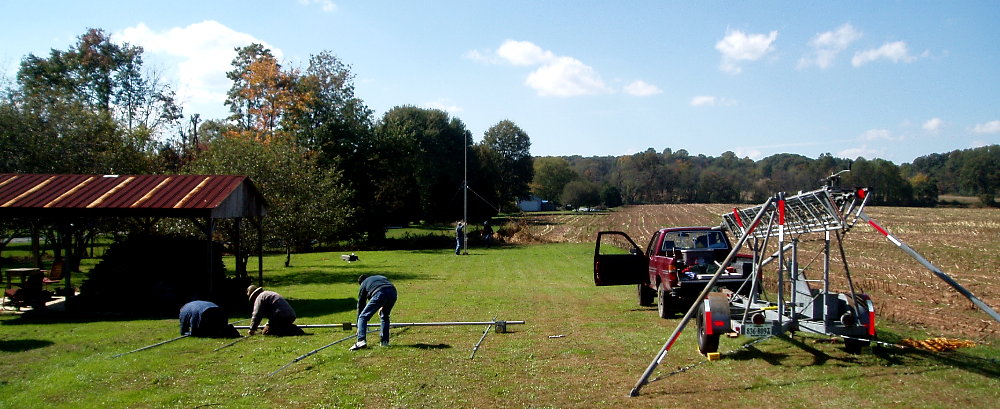 The Loudoun ARG trailer-mounted self-supporting, 60-foot crank-up tower was brought in on Friday morning by Gary Quinn - NC4S. We used Gary's Cushcraft A-4 yagi which really only worked on 20M. Gary continues to work on rebuilding these traps. In less than two hours it was fully assembled and tested. Here at the right, Chester - WA9LAZ, Larry - K3HE and Gary - NC4S assemble the yagi.

Further to the west, John - W4AU and Tom - NA4MA assemble John's trusty 40M vertical fully size loop. John will use this on 40M CW. It's a proven winner that produces about 700 CW QSOs for LARG's K4LRG during our annual ARRL Field Day 5A VA operations.


Gary - NC4S, Larry - K3HE and Chester - WA9LAZ
Assemble The A4 Tri-Bander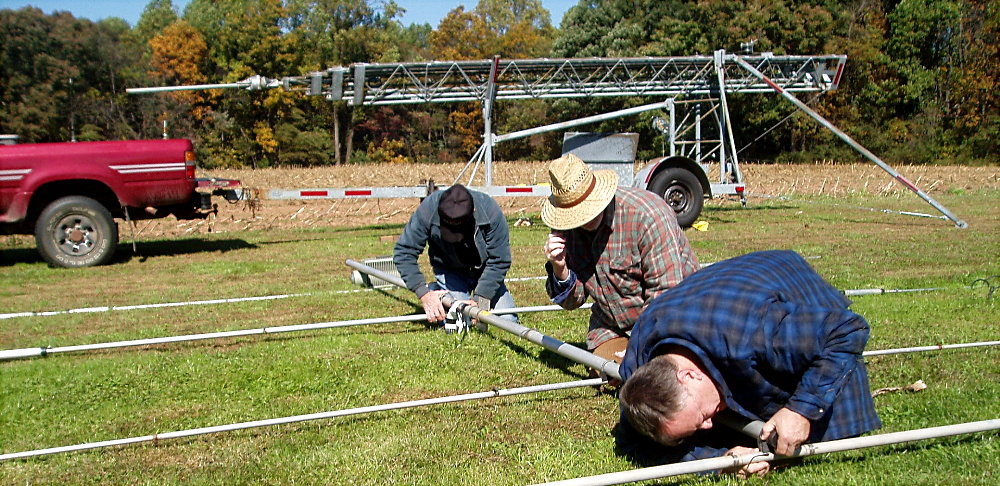 This A-4 goes together just as planned and just as in the past during our many LARG K4LRG Field Day operations. When at 60-feet and in the clear and fed with a KW; it really talked all weekend. Here, Chester - WA9LAZ, Larry - K3HE and Gary - NC4S assemble the boom to element brackets.
The 15M Yagi and the 160M Dipole


Norm Styer had rigged a Hy-Gain Model 155-BS 15M yagi for our 2006 Field Day operation; it sits on his auto hauler trailer on a till-over and crank-up ladder tower. A small TV-style rotor just manages to keep it pointed when windy. What's nice is this rig is small enough and engineered to allow one man to assemble.

To the right is the top of the 160M dipole. It's up about 60-feet with the help of a bow and arrow and some 20-pound fishing string. One end stretches out across the newly sown winter wheat field.
The 40M- CW Vertical Loop By John Unger - W4AU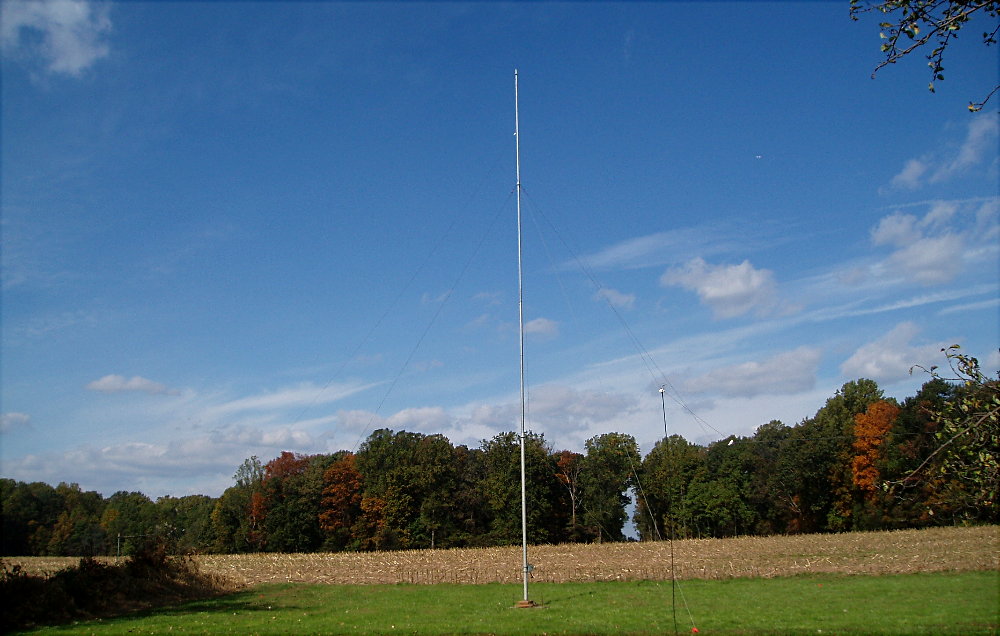 This is John - W4AU's 40M Vertical Loop up on a 40-feet telescoping mast and in the clear.

The Friday Night Dinner At Colonel Morgan's Place

We finished all the antennas just as the sun went down on Friday night; so, we moved up our reservations at the Heritage in Morgantown and settled in for some fine home cooked food. They were great meals and Colonel Morgan's Place is worth a stop over at the Morgantown Exit of the Pennsylvania Turnpike. By 9 PM we were back on Red Hill; we talked a little more strategy, checked our trusty Windows 98 machines for all our TR Log files and their configurations, and then took 'five' until morning.

(L-R) Mark Johnson - W3ZI de Ashburn, VA., Norm Styer - AI2C de Clarkes Gap, VA., Gary Quinn - NC4S de Lovettsville, VA., John Unger - W4AU de Hamilton, VA., Bill Buchholz - K8SYH de Potomac Fall, VA., Tom Garasic - NA4MA de Haymarket, VA., and Chester Kmak - WA9LAZ de Leesburg, VA. And, photograph by Larry Hughes - K3HE of Leesburg, VA.
An Early Saturday Sunrise - It's Going To Be A Nice Day !!!

Saturday morning was cool, dry and clear. Angi's pancakes by Tom Garasic hit the spot. And, we wondered how we were going to handle all the other food BA and Bill had provided. At right, Tom Garasic is joined by Denny and Carol Boehler's camper by noon on Saturday. They reported a good sleep on Saturday night.
Norm Styer - AI2C and Bill Buchholz - K8SYH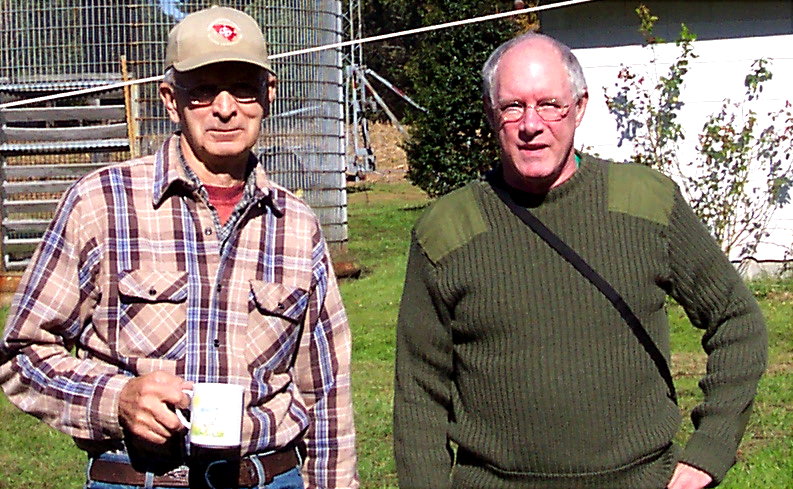 The sun was extra bright and a good cup of coffee also helped us spring back to life. We walked the farm and checked the antennas; it was about time to crank them up.

Here, Norm - AI2C - a Nittany Lion and Bill Buchholz - K8SYH - a Buckeye discuss Big Ten Football and what will happen to Penn State that night when Michigan comes to Beaver Stadium. Norm gave up his season ticket seats to the Michigan game when everyone wanted to really try the PaQP on his farm. We did watch some of the game on TV on Saturday night but the Lions came up short while the Buckeyes just kept rollin' on.
Mark Johnson - W3ZI's Quarters


These were the overnight quarters for Mark - W3ZI on the left and Tom - NA4MA and guest Larry - K3HE on the right.


Tom - NA4MA's Quarters

Our Multi-Multi Stations
These Are The Dual Stations Built By Mark Johnson - W3ZI
For Seven Band-Modes !!!

Mark Johnson - W3ZI's 1st Station:
160 M CW, 160 SSB, 80M CW, 15M CW and 15M SSB

Mark Johnson - W3ZI operated his Kenwood TS-850 HF Transceiver and a Tokyo High-Power Antenna Tuner on 160, 80 and 15 Meters. Most contacts were made with CW. Separate antennas were available for each band. He set up in one of the garages with his other station on 75M SSB in the same car bay. Mark started on 15M than went to 80M - CW until around 0100 GMT when he tried 160M. 80M was best at 2300 and 0200 hours. 160M was fine around 0300Z as advertised in advance and both SSB and CW worked.

Mark - W3ZI Operating 80M CW


Mobile 15M Yagi By Norm Styer - AI2C

The second day was very slow. It was difficult finding new stations. 15M did open a little around noon but it was a lot of CQ PQP'ing throughout the day. As on other bands, the first day is always the best. When the smoke cleared there were over 300 contacts from these various bands in the log.
John Unger - W4AU and Tom Garasic - NA4MA Listen To Mark Johnson - W3ZI Operate 80M CW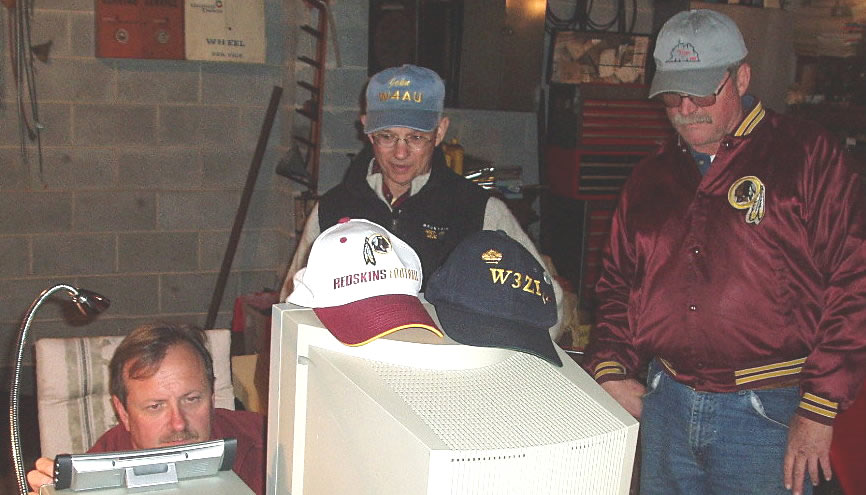 Performance:

Things were slow for several hours at the start; Mark kept checking both 80M CW and 15M. By 5 PM and at around sunset, 80M came alive and Mark over a hundred contacts. Later around 8 to 9 PM activity picked up again and after that Mark spent a couple hours on 160M with some surprising results for a state QSO party - this is very cool. Well after that, as you can see, things were just hard work finding someone new. We sure hoped to find more on 15M on Sunday afternoon and Mark gave it a good 'college try'. In the end, over 300 contacts made it into the log.
Mark Johnson - W3ZI's 2nd Station: 75M SSB & 2M



Mark - W3ZI, Tom - NA4MA and Chester - WA9LAZ On 80M SSB

The 75M SSB and 2M FM station by Mark Johnson was his Kenwood TS-2000. There was a 75M dipole up about 55-feet and a 2/440 Diamond Co-Linear vertical antenna provided by KF4TJI - Denny Boehler on top of the 60-foot crankup tower.


Mark - W3ZI's TS-2000 On 80M - SSB and 2M

Chester Kmak - WA9LAZ was the prime operator on 75M SSB. Denny and Carol Boehler helped also and they tried 2 and 440 several times with little luck.


Although it wasn't too cold out in the garage, most bundled up a little.



Chester Kmak - WA9LAZ handles 75M-SSB - On Sunday Looking For The Last One !!!
| | |
| --- | --- |
| Performance: Four hours into the Party and 75M SSB started to come alive since most folks had started on 40M and were now ready for some new territory. Two-thirds of the total 300-plus contacts were in the log by 7 PM local. There were surprisingly many mobiles in some rarer countries that showed on 75M and would be easy to contact once you found them. . On Sunday, Chester spent a lot of time calling and a lot more time listening for the last one or two counties that we needed. This really paid off; our 'last one' was worked on Sunday afternoon by Chester. | |
| | |
John Unger - W4AU's Station: 40M CW

John Unger - W4AU Operating 40M CW

As always, John Unger - W4AU is our anchor on 40M-CW. His station was his Ten-Tec Omni VI+ and his 40M full vertical loop. He also used an ICE Combination Bandpass Filter Model 419B. John set up in an empty spare bedroom. John really enjoys 40M and the Charlie Whiskey. His Ten-Tec has 'good ears.'

John Unger - W4AU Checks 40m Loop Tuning

Again, the first day is always the best; John had about 250 contacts in the log by 8 PM an then things got much lighter. And again, we caught John reading the latest issue of QST while putting them in the log. At the right, John uses an antenna analyzer to confirm the 7040 kHz resonates on his loop.



John Unger - W4AU Operating 40M CW

Here John puts some weak ones in the log. His vertical delta loop really hears well.

John Unger - W4AU Says "It's Perfect

John actually surveys in his loop; now, that is attention to detail. His loop is vertical and is easy to erect. Part of its pattern includes a nice low takeoff angle. It took him only 2 calls to tab the KH6 for one of the last ARRL sections on Saturday
evening.


| | |
| --- | --- |
| Performance: 40-Meters opened fast on CW - twice that of SSB. Like other low bands, most Pennsylvania party goers only attended the first session. Thanks for the diehards who showed up from other bands on Sunday. You really want to operate Charlie Whiskey to stay in the chair on Sunday at rates like this. | |
| | |

Norm Styer - AI2C Station: 40M SSB

Norm Styer - AI2C Operating The LARG's Kenwood TS-440
On 40M SSB Station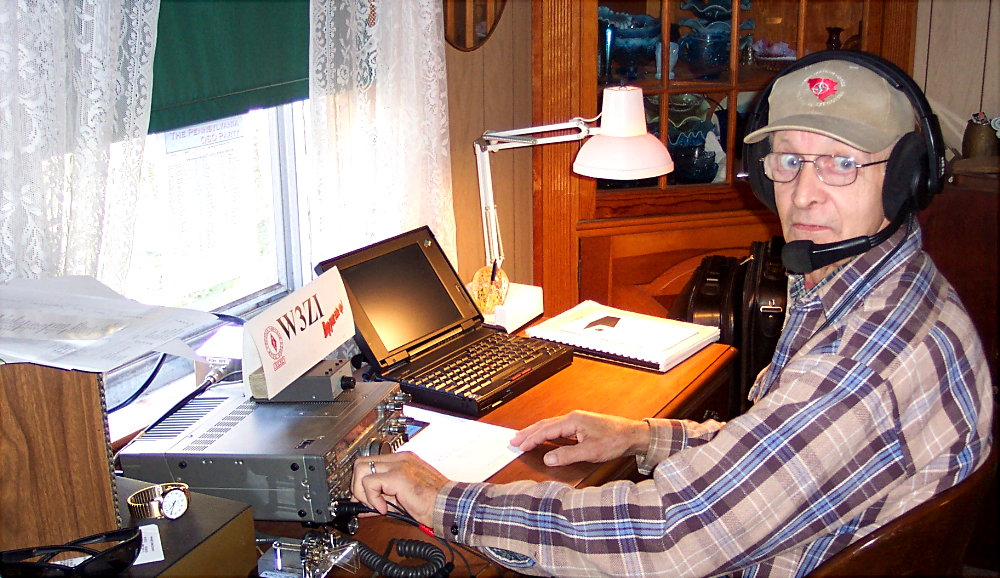 The Loudoun ARG's Kenwood TS-440 HF Transceiver, a companion 120V AC power supply, and a 40-foot high 40M dipole was used on 40M SSB. Norm has deployed this setup to the farm many times over the past few years. Like the other low bands, we used a W3NQN Single Band Transceiver Bandpass Filter. And Norm had his Johnson Matchbox in-line. The only in band interference among all stations occurred between 40M CW and SSB stations. Some thought it might be grounding, or it was the 440's front end, while others thought it might be ..... Anyway, it was more like 'intermod' as there were spots on 40M SSB frequencies where there was fairly strong CW birdies but you could run at other places or otherwise you asked for fills. This slowed thing a little but it was nice to hear what John was working. Next time out, we'll have to do some testing with other rig - antenna configurations.
| | |
| --- | --- |
| Performance: 40-Meters sideband started slower and got slower. Maybe they went to CW but signals were just down. As the band seemed to die Norm took a break during the second hour and was wondering around seeing how the other stations were doing when he got this frantic call to get back to the rig. Conditions cleared up and for a hour or so the TR Log 10-Minute Rate Meter sat above 150 - it was 100+ hourly rate at 2 PM. Then that was that until late on Sunday just before 'close station' when it opened nice to Pennsylvania and a lot of mid-west stations. We all expected better from 40M SSB; we'll have to look at something different for the next one. Though, we were not the only ones complaining about 40M; the Internet cluster comments about the 40M conditions ran about the same as we experienced. In the end, there were 380+ QSOs in the log. | |
| | |
| | |
Gary Quinn - NC4S's Station:

20M CW & SSB
This was our super station. Gary Quinn put together a first class station on the enclosed back porch and used the 240V clothes dryer outlet to power his Alpha 78 Amplifier. Gary was also sporting his new LCD monitor. Gary, thanks for a super job.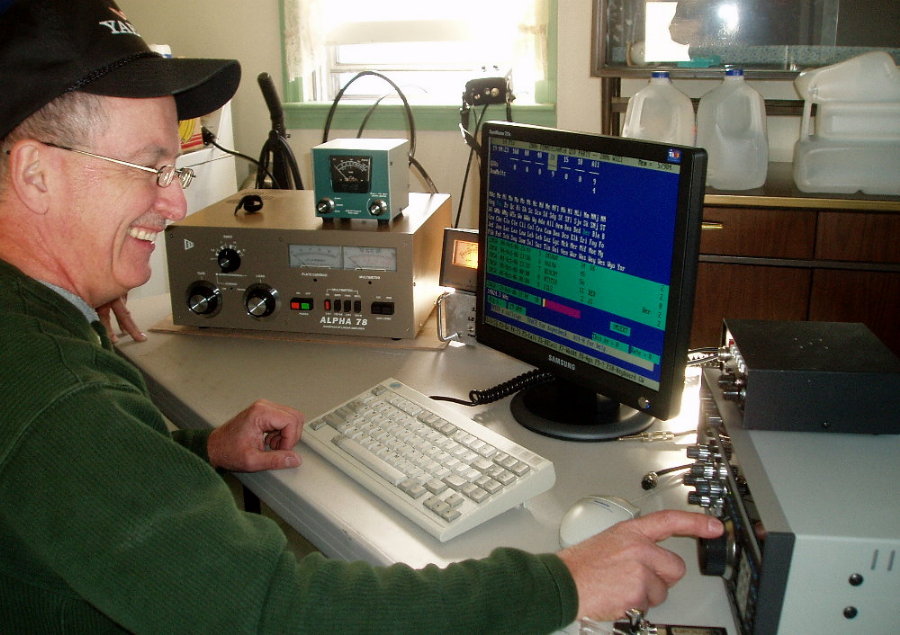 There were a few other goodies that Gary employed including an MFJ Voice Keyer, a Logikey CW Electronic Keyer, a Bencher BY-2 Chrome Key, an Alliance antenna rotor, an ICE Combination Bandpass Filter Model 419B, a very old but looking like new Heathkit HM-102 1.8-30 Mhz Watt/SWR meter, an adjustable dual headphone distribution box - recommended by N4PD for Field Day stations, and a footswitch. Once he got the levels set on the voice keyer everything just hummed all weekend.

Our main goal with this setup on twenty meters was to be able to work the midwest and west coast all afternoon; the numbers show we put Pennsylvania and Berks County on the map. The A-4 yagi antenna sat at about 60+ feet and played very well; late Sunday, Gary cranked it down to about 25 feet in preparation for 'close station'; you could see signal levels from the West Coast drop off several S-units.

Almost everyone had to try this outstanding setup. The calls just kept rolling in. Here, Chester Kmak - WA9LAZ on the left and Bill Buchholz - K8SYH below take turns.

During those high rate periods, folks would get inspired by the TR Log 10-Minute Rate Meter which would set well above the hourly rates. Gary held it at 90+ for many hours.
| | |
| --- | --- |
| Performance: Twenty opened well with almost 80 in the log during the first hour but when conditions dropped in the second hour, Gary went to CW but that quickly dried up also. It's a little surprising that Gary never got back to CW - guess we need one or more 20M CW PaQP window announcement. By late afternoon, the rest of the western US was there and produced a couple ~70 hour rates. Twenty folded by 8 PM on Saturday; there were 500+ contacts in the log. Sunday was a little less exciting; there was a nice 60 per hour run around 2 PM on Sunday. Sunday yielded another 300+ contacts. Before dupes we had 870 QSOs for this band. Not bad and very comparable to what we expected. | |
| | |
Final
Numbers


Our final score is 382,888 with 2164 good QSO's. We worked all 67 Pennsylvania counties, 76 US and Canadian Sections, and 1 DX for a total of 144 mults.

We had 23 good QSO's with N3SH stations for an additional 4,600 points!

Please note that all charts contain all QSOs; we had over fifty dupes.


Carol - KF4TJJ Keeps Track Of The Last Few Needed Counties
Our "MO"

Our key operators have many, many decades of combined HF phone and CW contesting and DX-ing experience; there is plenty of wallpaper around these guys home QTH's in Northern Virginia. Several have been on the DX side of many pile-ups, so operating individual or multi-multi contest stations is a lot of fun to all of us. We also enjoy putting the Loudoun ARG's K4LRG through its paces in the annual ARRL Field Day; so, this Pennsylvania QSO Party operation was a natural for us.

But, this time, we were multi-operator and multi-transmitter and we were 'assisted' or 'unlimited.' We felt we would be competing against some big, well heeled, well manned fixed contest stations. So like the big fellows, we used all means available to us and tied into a telnet connection at W3LPL in Maryland. Carol Boehler - KF4TJJ and other off-duty operators kept an eye for reports - spots - on stuff we needed. We really wanted to make a clean sweep of all 67 Pennsylvania counties. And, as secondary goal, we wanted to get close to working all ARRL sections and Canadian provinces. We missed eight: Alaska, Puerto Rico, U.S. Virgin Islands, New Brunswick, Prince Edwards Island, Northwest Territory, Labrador, and the Yukon.

Late Saturday night, we made a list of stuff we still needed. Then on Sunday, Carol monitored the Internet spots and kept track of our remaining missing multipliers. We found the rarer KH6-section late Saturday on 40M CW this way and on Sunday, Chester - WA9LAZ hunted down Sullivan and Clearfield Counties on 75M SSB.





Carol - KF4TJJ Checks
For New Reports


The Last Ten Multipliers At W3ZI

Pennsylvania Counties

United States

&

Canadian Sections

Nr.

County

BD-Mode

Day - Z Hr

Nr.

Section

BD-Mode

Day - Z Hr

58

DAU

75-SSB

Sat--20Z

67

CO

20-SSB

Sat--19Z

59

LAC

75-SSB

Sat--20Z

68

WY

20-SSB

Sat--20Z

60

MIF

75-SSB

Sat--20Z

69

EB

20-SSB

Sat--20Z

61

CLI

80- CW

Sat--22Z

70

KY

40-CW

Sat--20Z

62

WAY

75-SSB

Sun--00Z

71

ND

20-SSB

Sat--21Z

63

FOR

80-CW

Sun--01Z

72

WTX

20-SSB

Sat--21Z

64

FRA

160-CW

Sun--02Z

73

NV

20-SSB

Sat--22Z

65

PIK

80-CW

Sun--14Z

74

NS

80-CW

Sun--00Z

66

SUL

75-SSB

Sun--18Z

75

PAC

40-CW

Sun--03Z

67

CLE

75-SSB

Sun--18Z

76

NI

20-SSB

Sun--18Z
A unique feature of the PaQP is the designation each year of a different Pennsylvania club to deploy multiple special event stations throughout the state. Contacts with these stations each count as 500 bonus points. This year, N3SH of the Wireless Association Of South Hills from Pittsburgh, PA., operated throughout western Pennsylvania. We were fortunate to work them for 23 good contacts. Here is an extract of our TR Log; it is like the one recently posted on the Internet by the PaQP sponsors.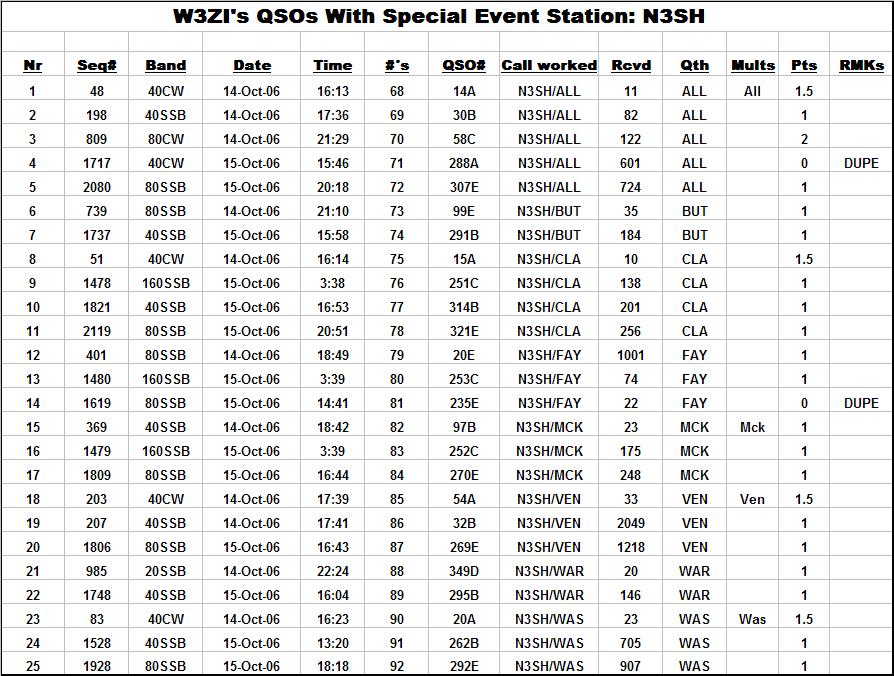 For most of us who never operate 'assisted,' it was an 'eye-opener' to see how many folks rely on the Internet or packet cluster means to ask for missing sections and counties: questions on where is this county or that section kept rolling by all day on Sunday. It was like shooting 'ducks in a barrel' and seemed to take the fun out of 'doing it yourself.' No wonder the CQ Contest Reflector, in recent weeks, is full of discussions on what is permitted to remain 'Unassisted.' Folks working as an 'assisted' operator really places them at a marked advantage in some aspects of contesting over the 'true' single operator.

Finally, although all of us have many years of experience as single operators in the Virginia QSO Party; we all agree that the Pennsylvania QSO Party is a real treat. Yes, we missed all the VHF and UHF activity but this PaQP is head and shoulders above the VaQP. There was no "need to work" the Russian International DX Contest, the BARTG HF RTTY Contest, or the 9KCC 15 M Contest in order to be competitive, nor was there any other 'crazy' schemes involved. And, there was none of this long over night Saturday until Sunday sunrise nightmare and the late Sunday night closing time. Simply just get on and operate. Our hats are off to the PaQP; no wonder this is the 49th running.

John Unger - W4AU put together the dom.dat and config files for our TR Log logging program. It worked great but we still ran into some folks who didn't know their ARRL section. The US County-to-ARRL Section routine discussed after this years party by AA3B would have helped. Anyway, TR Log worked great. And, as we always do after Field Day, we vow to figure out and implement a network among our stations. We really could have used something like this and maybe even tie it into a cluster or telnet outlet. As you can see, we still are more use to running 'single op - unassisted.' Maybe next time, as we say, we'll get our act together. Anyway, John Unger did a great job collecting all the 'live' files, combining them and submitting our summary and log to the PaQP CHOP. John, Thanks a Millions !!!

It's always interesting to study how well each station - antenna - band - mode combination performed. Here is a chart of all 2232 contacts - the dupes are included here. Besides demonstrating the details of the Pennsylvania Counties and ARRL and Canadian Sections that were worked, one can compare coverage between the bands and more importantly, the differences between the modes on a single band. We can make judgments on which antenna setup worked best and to a lesser degree which operators were on the ball. Thus, should we try some new antenna arrangement or maybe be better prepared at certain band openings. As an example, John Unger's vertical loop on 40M CW really out performed Norm Styer's 45-feet high dipole on 40m SSB. John had many more contacts into W5, W6 and W7 land. Can you find other differences?




A little too much? Well, we boiled the above chart down a little. First, Norm assigned distance ranges to each county and section - yes, all 144 of them - then this chart was sorted based on assigned distance. Then a second range chart was created which rolled all counties and sections into the range categories. That was still a big chart; so, John normalized the data and it is displayed below in two charts:

1st Chart - 80M CW vs 75M SSB
2nd Chart - 40M CW vs 40M SSB

You can see how the Charlie Whiskey antennas out performed the SSB stuff. The two CW antennas were erected in clearer areas and the 40M CW antenna was a vertical loop with a lower set of take off angles. The two antennas on 75 - 80 M were dipoles at about the same 45-55 foot height but the 80M CW antenna was up over an orchard in the clear while the 75M SSB antenna was partially obstructed by two metal pole barns. Of course, Charlie Whiskey always carries further.


Slide In The Chair

          Though the station captains took the first few hours, we had a veteran core of operators to 'take the chair.' Larry Hughes - K3HE and Denny Boehler - KF4TJI were great on phone and Bill Buchholz - K8SYH and Tom Garasic - NA4MA also did some long periods on Charlie Whiskey. Carol and Denny also tried 2/440 several times throughout the weekend but ran into only the same local stations. And, anyone on break when not chowing down was interested in what else had to be worked or what chore still needed to be done. Tending the big old wood furnace in the basement was a prime off-duty duty. It was wonderful how everyone worked so well together.

Larry Hughes - K3HE
de Leesburg, Virginia

Bill Buchholz - K8SYH
de Potomac Falls, Virginia

Tom Garasic - NA4MA
de Haymarket, Virginia

Denny Boehler - KF4TJI
de Leesburg, Virginia



Now, More Numbers

Here are a few more charts showing performance among bands and modes. The charts at the very bottom have all our numbers by band, mode and hour. Clearly, early birds on Saturday got the worms.




Band-Mode Rates

Well, things happen fast on Saturday. Most stuff happened by 7 PM. And, by 10 PM we were close to 1500 contacts. The big band-modes were 20M SSB and 40M SSB while 40M CW just kept plowing along. A 150 rate to start and two 200 rates at 2 PM and 5 PM kept everyone excited. And, 75M SSB was helpful at mid-afternoon. The best numbers on Sunday came on 20M SSB while the rest of the stations struggled to stay in the chase.



Band Rates In the end, 20M was first with 40M and 75/80M coming in second and third. The spikes at 2 and 5 PM on 40 and 20M suggest some 'condition' changes on Saturday afternoon.



Mode Rates Well, unlike our experience in the ARRL Field Day, the SSB guys beat up on the CW guys. In the end, it was over a 3:1 rout. It wasn't that we didn't try; at anytime, we had 3 or 4 stations always on CW; the activity just wasn't there.


Band-Mode
Rates & Numbers

OK, here are the same charts but now with all the numbers. Do you see those two 'zero' hours on 40M SSB late on Sunday. Huuummm!!!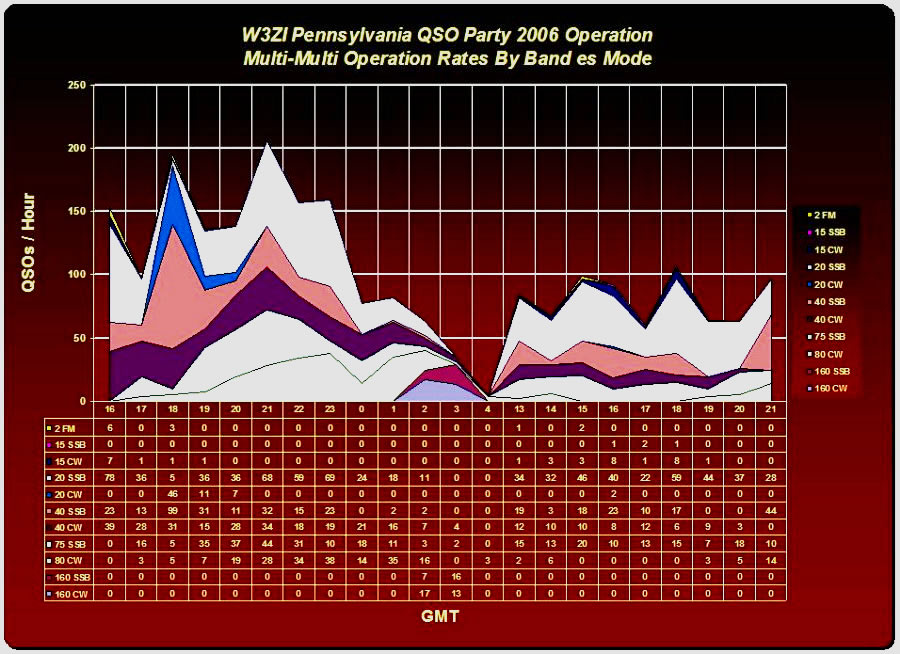 Band Rates & Numbers
These are the running totals by band. It was the single station on 20M first, followed closely by two 40M stations and then tow 75/80M stations. Of course, the flatter the slope of each curve means it was 'a long day!'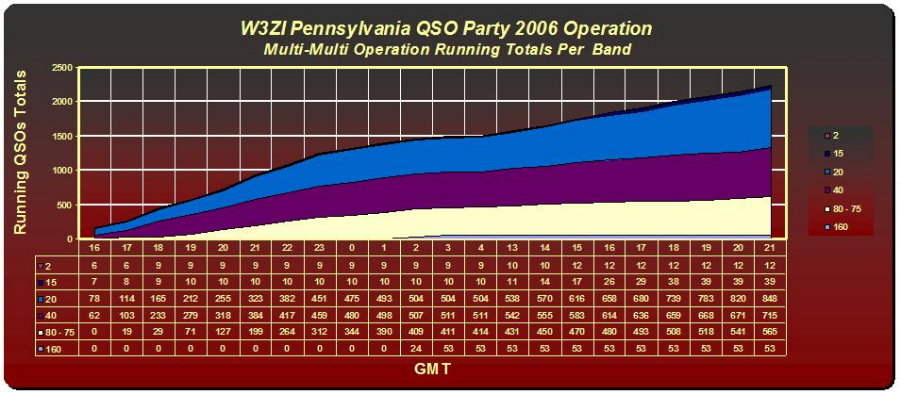 Mode Rates & Numbers


Typical of QSO Parties, the SSB activity is greater than Charlie Whiskey. But almost 700 CW contacts speaks highly for the Pennsylvania QSO Party. Only the Georgia and California QSO Parties have similar performances. Thanks to all those CW operators out there; we enjoyed the contacts.





Best Regards
de the Gang
at W3ZI
To a person, all eleven gals and guys of the W3ZI Multi-Multi Operation in the 2006 Pennsylvania QSO Party truly enjoyed this event. We loved planning and putting our stations together; we loved the time together and the time we got to talk to a lot of great and friendly Pennsylvanian and others across the country. Thanks for talking to us. There's talk already amongst the gang that we might do this again in 2007; maybe so, if the good lord is willing and the creek doesn't rise. Best Regards, Norm Styer - AI2C de Clarkes Gap, Virginia, December 8, 2006.
NNNN