LARG Tech Boot Camp - January 2008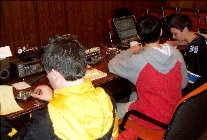 At the break, students try their hand at some Morse Code and operating the Loudoun ARG's K4LRG Amateur Radio Station at the Tech Boot Camp in January 2008. K4LRG operated on 20-Meters Phone and CW, 2-Meter FM on the 145.310 MHz N4FSC/R Repeater and on the KE5APC / EchoLink on 146.460 MHz. Many world-wide contacts were made.
Advanced Amateur Radio Training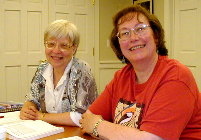 Beside offering training to meet the need of our membership, many families and friends attend our training courses. At the end of session 5 of the Spring 2001 Tech Class, Carol Boehler - KF4TJJ and Gloria Borgrink - KE4JEH went to the Ole Virginia Hamfest in Manassas, VA. and earned their General Class, Element 3 - Very Cool !! They are both Amateur Radio Extra Class operators now.