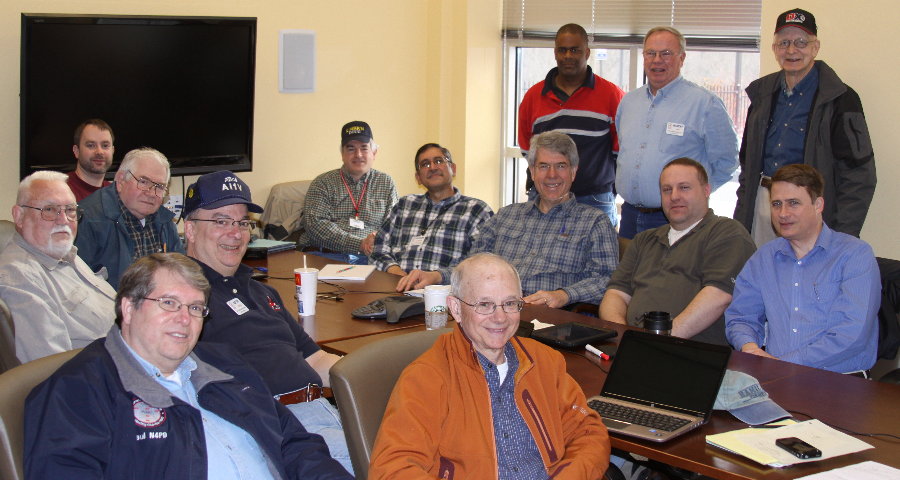 The 2011 LARG - K4LRG Field Day Committee
(Center -CW) John - W4AU, Paul - N4PD, Rick - AI1V, Frank - KØBRA, Bill - N4TS,
Brian - KJ4ZTP, Doug - KJ4BRN, Luther - K5NOB, Jeff - KE5APC, Chris - W3CUM,
Bryan - KG4UPR, (Standing L-R) Earl - KF4UUX, Jay - KI4TXP, Norm - AI2C (Photo By Chris - KB3RUR)

(Purcellville, VA. March 5, 2011) The 18th Loudoun Amateur Radio Group's K4LRG ARRL Field Day Committee held its initial organization meeting on Saturday, March 5, 2011, with Chairman, Chris - KB3RUR hosting the group. Most members were present. Quickly, it was clear we are operating Class 5A again and hopefully, we will return to John - WB5ODJ's farm. Jay - KI4TXP will finalize the site selection.
The main goal of this meeting was to seek and select captains and co-captains for the many functions and duties. Great strides were made and a "DRAFT" Organization Chart is available here. There will be some coordination on several tentative selections and a few positions still need to be filled. Updates will be posted. If you would like to assist then please contact Chris.

The FD CMTE expects to hold one or more meetings prior to June to review preparation and plans.

Everyone is encouraged to study the On-Line 2011 ARRL Field Day Package and Download Field Day Package pdf file.
Members are encouraged to review our other Field Day operations posted here. As you will see, there are many operating opportunities and ways for everyone to participate.

Attention: Gary Quinn - NC4S is actively coordinating our Operating Schedule. Please visit the Big Board and Sign Up !!!
Hope To See You All At 2011 Field Day !!!