Loudoun County Amateur Radio Emergency Service Members
Visit New Loudoun County Emergency Operations Center
Norm Styer - AI2C de Clarkes Gap, Virginia

(Purcellville, VA., February 11,, 2008) Members of the Loudoun County Amateur Radio Emergency Service (ARES) visited the new Loudoun County Government Emergency Operations Center (EOC) at 801 Sycolin Road, S.E. Suite 100, Leesburg, VA 20175 on Wednesday, February 6, 2008. We signed in and gathered in the main Conference Room of an introductory briefing by Tom Dawson - WB3AKD, the Emergency Coordinator of Loudoun County ARES. Tom Dawson presented Kurt Reber - KI4FWB of Lovettsville with a special achievement award.

The recently opened facility is a spacious, modern communications and coordination room equipped with as many two dozen dual screen communications terminals. There are three wall-mounted multi-screen video displays. Every element of the county government has representation. All positions operate on the WEB-EOC system and have access to all in the EOC, the regional and the state-wide emergency communications networks. The central operating room is semi-harden with concrete block walls and staff, meeting rooms and support facilities surround the central operating room. Standalone uninterrupted electrical power for the entire facility is further backed up with on-site electrical generators. Additional information is available on the Loudoun County Government Internet Site.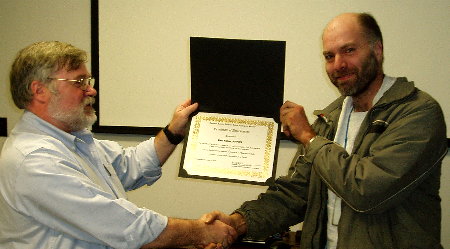 Loudoun County Amateur Radio
Emergency Service
Certificate of Achievement

Presented to
Kurt Reber, KI4FWB of Lovettsville, Virginia

For Steadfast Participation in Nearly Every ARES Operation, Drill, Exercise and Public Service Event Held Since He Was Licensed
and
For His Continued Improvement in Technical and Operational Skills
and
Professional and Helpful Demeanor at All Times
Presented By:
Thomas L. Dawson WB3AKD
Loudoun ARES Emergency Coordinator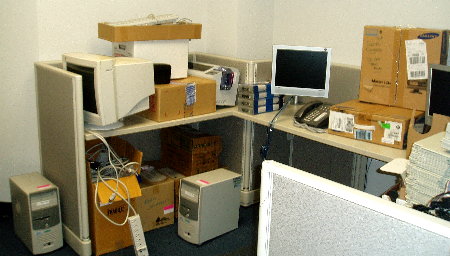 The Room Designated For The Loudoun ARES
Stations and Personnel
This room will be equipped with HF, VHF and UHF digital and voice amateur radio transceivers, a WEB-EOC computer terminal, and a separate packet - automatic position reporting system computer.

Radio transmission cables are being permanently installed and VHF, UHF and HF amateur radio antennas will be mounted on the roof of the facility.

ARES personnel will be organized into Red and Blue Teams to work twelve hour shifts like the rest of the county staff.

For further information or to volunteer for this effort, contact Tom Dawson - WB3AKD, the Loudoun County ARES Emergency Coordinator at [email protected].