Introduction
The alert notice came from Tom Dawson - WB3AKD at our February meeting of the Loudoun Amateur Radio Group: Set May 5th aside for the Dulles Airport Emergency Drill. In April, Gary Quinn - NC4S requested that all volunteers step forward; I volunteered to help. In early May, Gary told me that I was assigned to the helo med evac site just like the last operation. Then on April 30th, I attended the all hands meeting at the Cascades Library. With five days to go, most functions and activities were identified and folks had been assigned to most. Several big comm vans would be pre-positioned for our net control activities. The operations plans and operating nets, repeaters and other radio frequencies were reviewed. This would be bigger and better than the last one. Usually ARES's things don't have this luxury; normally, you just have time to grab your go bag.
The All Hands Meeting
Tom Dawson, WB3AKD of Round Hill, the Emergency Coordinator for Amateur Radio Emergency Service in Loudoun County, briefed about forty-five amateur radio volunteers at the Cascades Library in eastern Loudoun County on Monday, April 30, 2007. The Operations Plans were briefed and most assignments and duties were firmed up.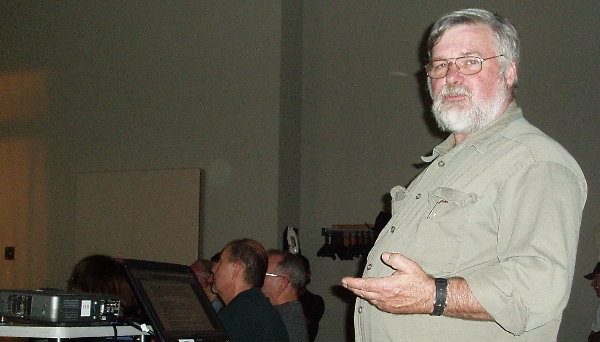 The Assembly Area

I set two alarms for 5 AM and was on the road off of Canby within the hour. I had packed everything the night before. I carried a dual-band handheld radio and a second 2-meter handheld with fully charged batteries and a couple dozen AA backups. Then there were three sandwiches, 4 sodas, a big bag of potato chips, and box of chocolate cookies.This stuff went into the backpack with a change of clothes, some tools, a Red Cross first aid kit, a flashlight, and a raincoat. Oh, yes, my camera, too.

Security was more this time. As I monitored the local VHF frequencies, a lot of arriving folks were alarmed at all the gates and the 'not-wave-through' delays. They knew we were coming and quickly routed us to extra non-employee check-in lines. I was on the roster and was cleared to proceed. I found Carol Boehler - KF4TJJ at the assembly area checking in ARES volunteers. We had to sign away any liability claim and then were issued an identification card and lanyard.

By 8 AM everybody was there. The evacuation buses were first class, like brand new, and the drivers were fast at work covering all seats with plastic. The ARES bus riding crews had placed big four-prong suction cup antenna mounts on the outside of each bus right behind the driver. These would support the APRS and voice coordination net. About 8:20 AM I found a ride out to the landing zone with the airport authorities who would also manage the landing zone. They took good care of us. I was followed soon after by Karl Hamilton - KI4BDS who also pulled duty at the landing zone. Karl's handheld had went 'belly up' earlier in the week. So, he brought a dismounted mobile rig, a j-pole antenna and a 12-volt storage battery. We were well equipped and only about 100-meters from the net control station.