Countryside Fall Fest 2003
By Boyd Garrett - N5CTI

The Countryside Homeowners Association held a Fall Fest from 12 noon to 4 p.m. on October 18, 2003. There were a variety of activities ranging from crafters to kids games to a hay ride through a part of our 380 acre nature preserve, all for free - well, you had to pay the crafters if you bought something from them.

In order to raise the profile of Amateur Radio in our community, I arranged to have a demonstration station set up for the event. The idea was to show some of the "neat" things we do with our radios, as well as, inform folks about the often-unnoticed services that Amateur Radio provides our communities. We tried to employ a low-profile antenna setup to let people weigh the benefits of Amateur Radio in their community against the visual impact of antennas (hopefully minimal!) in their neighborhoods.


I'd like to thank everyone who helped me with our Amateur Radio Demo:

- Bill McCourt - WF1L was irreplaceable with the contribution of his 40 meter ham stick dipole, mast sections, skills and know-how.

- Larry Hughes - K3HE lugged a huge rectangle of particle board which he put up with photos and descriptions of LARG activities developed by Norm Styer - AI2C. We had the ARRL Archie Comic Book for the kids and of course, the LARG Code Card.

- Randy Sly - K4SLY, after running home to attend to an errand, returned to help Dale Harrison - K3CN and me disassemble the antenna and mast and pack everything up at the end.

- Tom Garasic - NA4MA came all the way into Sterling to drop off the club sign and easel.

- Joe Sheinman -W2BHK, and other area Amateurs and Bill, Larry, Randy and Dale spent some time chatting with Countryside residents.


Countryside Amateur Radio Demonstration
Filmed By Boyd Garrett - N5CTI
(1.47Mb)
In Windows Media Player Format
Click Here To Open File
And Play On Your Computer's Video Program
Give It Time To Download Or Use A
Local Library's High Speed Link
Oh, and along the way, I managed to chat with Amateurs from Boston down through Pennsylvania and on to Tennessee and somewhere in 5-land - forgot to ask the location!, not to mention Iowa and Ohio.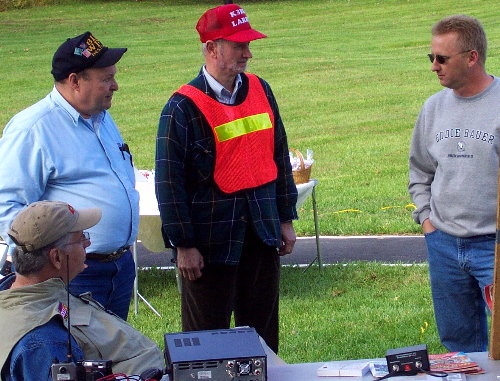 Bill, Larry, Randy and Dale spent some time chatting with Countryside residents whose interest was sparked by the "big antenna" and "funny sounds;" although I'm sure Larry's Emergency Communications vest attracted some attention, too!.

I apologize if I've failed to mention anyone by name who helped out with this event, but I wanted to express my sincerest appreciation for all the help I received with this. Just another indication of how great it is to be a member of LARG!

73, Boyd Garrett - N5CTI