Loudoun Amateur Radio Group
1998 ARRL Field Day Operation
June 1998 - Reformatted March 2008
The Loudoun Amateur Radio Group operated Amateur Radio Station K4LRG from Ida Lee Park at Leesburg, Virginia in the 1998 American Radio Relay League Field Day Exercise. Four station sites were established. One on the Porch of the Mansion at Ida Lee, one in the Utility Garage, one on the Lawn next to the Mansion and a fourth in a Communications Shelter parked by the Barn and supplied by Tom - WB9RXJ.




This is the HF Station in the Utility Garage behind the Mansion. Gary - NC4S supplied the ICOM 730 Transceiver and we used the Windom Antenna. Most of the operation was on 80 and 40 Meters. Shown operating are Carol - KF4TJI logging, Bob - W4POF at the mike and Bob - KF4VBM assisting.




This is the VHF Station in the Lawn next to the Mansion. Paul - N4PD supplied the Transceiver and we used antennas supplied by Tom - WB9ARJ. This was a nice cool place to operate from with the wind always there. We made many contacts on Six Meters with Mary - KF4UUY being the main operator.





This is the main station on the Porch of the Mansion. It saw heavy CW operation. John - W4AU supplied his Ommi IV and an Antenna Tuner. Charlie - K4LJH made a special Off-Center Fed Antenna fed with a Balun for 80 and 40 Meters. On 10 -15 - 20 Meters we used a 2-Element Beam provided by John - W4AU on a 25-foot push-up tower supplied by Temp - W4HZV. (The tower has since then been acquired by John - W4AU.)Many LARG members had a chance to operate this fine station. Shown here is Pete - KF4HCW logging and Norm - AI2C operating.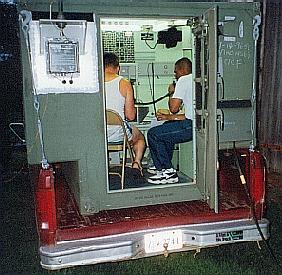 This the Third HF Station. It's a surplus Army Communications Shelter which Tom - WB9RXJ has converted for Amateur Radio Service use. The Antenna was the Group's 500-foot Long Wire strung from the top of the Barn toward the Northwest where a 30-foot ladder supplied by Tom - NA4MA held the other end. We tried to use the Army RC-292 Antenna Poles supplied by Tom - WA3AKD but we managed to pull the long wire too hard and broke a section or two which have subsequently replaced. Shown here are Tom- NA4MA and Earl - KF4UUX manning the station.