The Operations Center at K4LRG / NC4S
This year we decided to find a more survivable site for the main operations center. Gary Quinn - NC4S's Class A station was so much better than a floppy fly and besides Tom Dawson - WB3AKD's dependable S-280 Army shelters and generators were out of commission. Gary's site had a lot of stuff already in the air. It was like just throwing a switch. We should have this at a our critical customer sites throughout Loudoun.

Gary was assisted by Dave Putman - KE4S of Leesburg who put together a first class APRS setup that tracked everyone equipped with APRS throughout the ride and also rebroadcasted our positions and status onto the Internet. David Mullins - K4ARP of Aldie was the third operator and had primary responsibility for liaison with our customer - the Loudoun Chapter of the American Red Cross. Sometime David used amateur radio, while other times he would try the Red Cross's radios or pick up a cell phone. The final operator at K4LRG was Chris Fristad - KT9N of Leesburg.

This route rider spent some time at K4LRG during Sunday afternoon and found the operation smooth, fast, involved but not complicated, and in most cases with clear communications. There were some problems with the Cross Band Repeater at Reston that caused a lot of requests for repeats, and some lower power handheld-equipped mobiles didn't play well if they got into the hills north and west of Waterford.

It was interesting to see how useful the APRS system was for determining the situation; it appeared to reduce the amount of voice traffic. It was also interesting to see how much the amateur radio operators were involved in the ongoing operation. Little happened that didn't get handled by these guys at the communications center. These guys would have needed a relief shift if this had gone on beyond 7 PM.

There is some .mov - Quick Time Movie - file linked and inserted as a 'plugin' on this page that captures the operation's tempo. To replay the 'plugin' just do a 'refresh.' I trust your computer will handle them.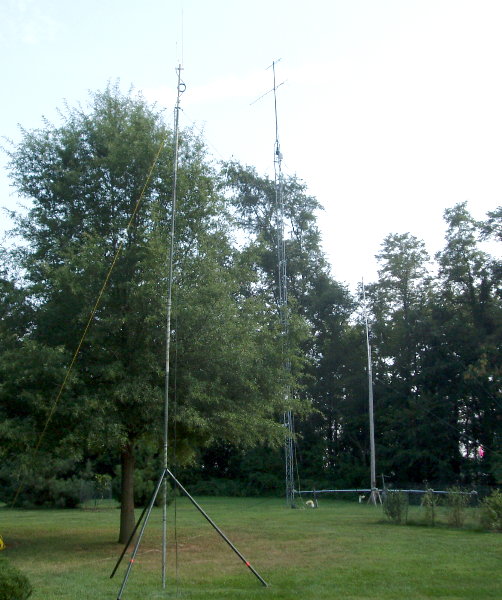 Dave Putman - KE4S's APRS 2-Meter Antenna in the foreground, Gary Quinn - NC4S's 60-foot Rohn 25 tower with 40-Meters dipole, 2-Meters, 440 antennas plus the wideband internet transceiver, and on the ground in the real, Gary's new SteppIR 4-Element Yagi ready to be installed.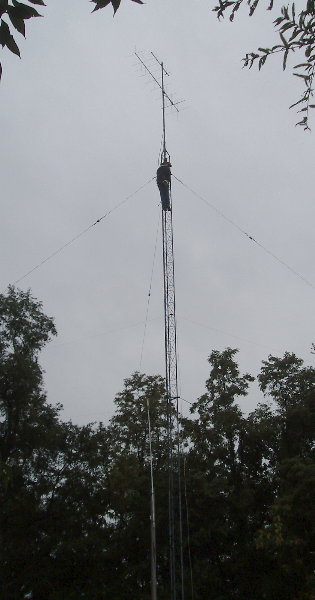 On Saturday, the Wideband Internet Transceiver is installed and oriented on the Lovettsville Access Point

LARG's K4LRG NCS Operations
In 20-Second "Quick Time " Movie

Gary - NC4S Looking For The Last Riders On The Route
(Double Click On It To Replay)